Options for saving the changes in the timetable
changes, save timetable, overwrite published
Once you do some changes in your timetable, the system will ask you, if you wish to save these changes on edupage before closing. You have two usual options for saving: Save or Save as.

A - SAVE
The system will give you two more options for saving your timetable and your choice depends on the changes you did.

1. Overwrite
This option will overwrite actual timetable published on Edupage with changes you have done. It also means, that all these changes will be immediately visible for all users (teachers, students, parents).
If this is your intend, then you don't need to do nothing further, but please keep in mind, that the timetable will be changed for the entire period already set in the "validity" column - so backwards also and it will affect class register, contracts, attendance, etc... (e.g. in Substitution module, you will have to "reschedule all substitutions")..
2. Just save a new version
Use this option, if you are not done yet with all your changes, or you simply do not wish others to see them. The former timetable will be still valid and stay published.
In both cases your changes will be saved with the new version number, which you will be able to open anytime later in the future (even, when there will be new versions saved later), so making notes is good idea.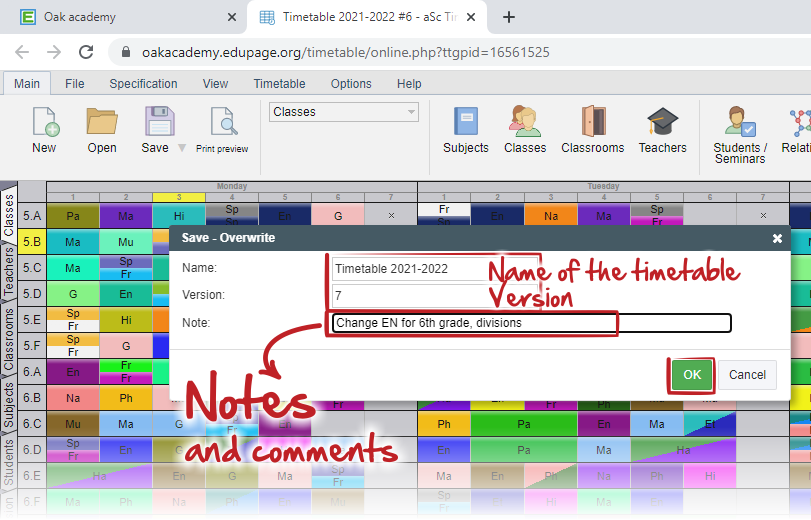 See also:
How to open previously saved versions of my timetable online
B - SAVE AS
If you select the "Save as" option, the new dialog will appear.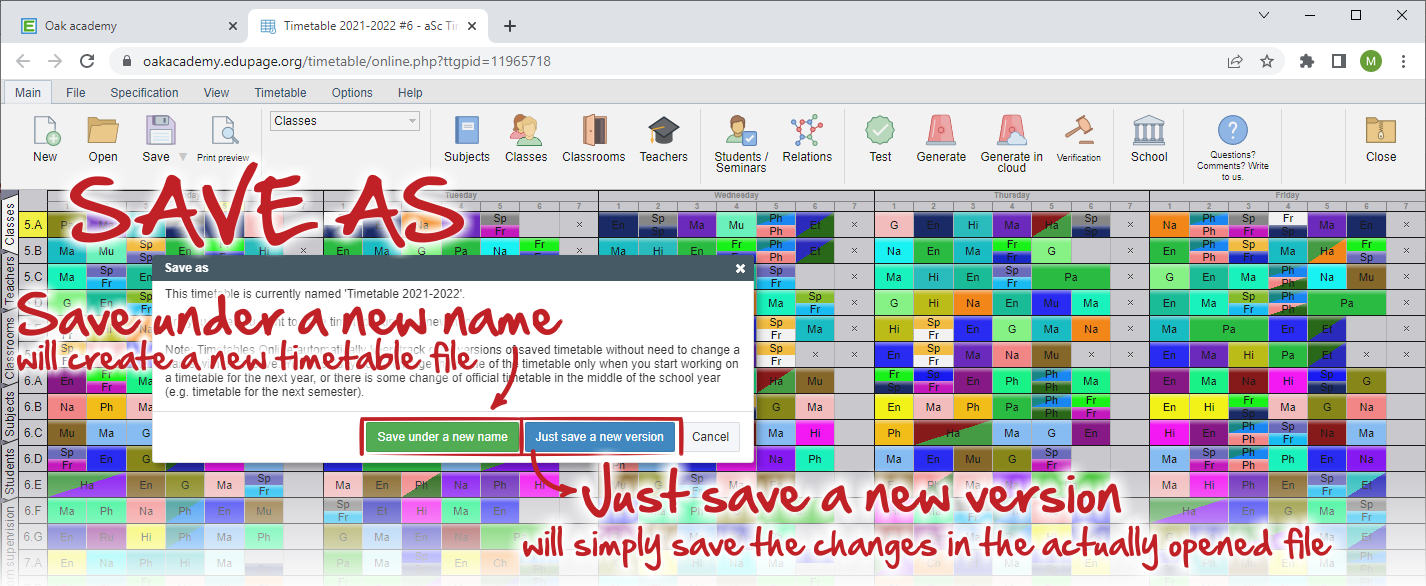 3. "Save under a new name"
Your changes will be saved as a new timetable file. You will be asked to input the new timetable name and optional notes.
The former published timetable stays valid. If you wish to share your new version, you have to publish it and set period of validity.
How to publish another timetable in case of change during the school year
Use this option, if made changes refer to specific date ("From") or you want to publish your new timetable for specific time period ("From-To").
4. Just save a new version
Original file stays and the principle is the same as for "SAVE" option (first two points).
See also:
How can I publish the final timetable for students/parents from ASC TimeTables software
=How many timetables can be published during a school year?
How can I publish the new timetable in Timetables Online administration?